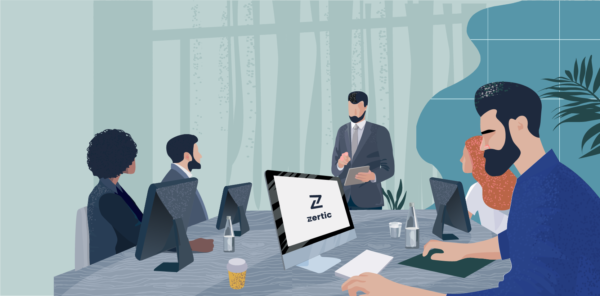 Privacy statement Zertic B.V.
We consider careful handling of personal data of great importance. Personal data is therefore carefully processed and secured by us.
In our processing, we comply with the requirements of the GDPR and Dutch privacy legislation. This means, among other things, that:
we clearly state the purposes for which we process personal data. We do this via this privacy statement;

we limit our collection of personal data to only the personal data necessary for legitimate purposes;

we first ask for your explicit permission to process your personal data in cases where your permission is required;

we take appropriate security measures to protect your personal data and also require the same from parties that process personal data on our behalf;

we respect your right to provide your personal data for inspection, correction, or deletion at your request.
Zertic B.V. is responsible for data processing. In this privacy statement, we explain which personal data we collect and use and for what purpose. We recommend that you read them carefully.
This privacy statement was last amended on 19-04-2023.
Relevant privacy legislation
In line with Zertic' internal processes and systems, this website is designed to comply with the following policies:
EU Data Protection Directive 1995 (DPD)

EU General Data Protection Regulation 2018 (GDPR)
Use of personal data
We use the following data for the purposes stated in this privacy statement:
Name and address details

Phone number

E-mail address

Gender
We have no means of a restricted part on this website, where we need visitors to register.
Commercial break
In addition to the information on our website, we can also inform you by email about our new products and services.
Contact Form
Through our online service, we offer the possibility to ask questions utilizing a contact form, where you are asked to fill in various details to handle your question. You choose which data you provide. The data you send us will be kept for as long as the nature of the form or the content of your e-mail requires for the complete answering and processing thereof.
Publication
We do not publish your customer data.
Provision to third parties
Your data is expressly not provided to third parties.
We have not concluded a processor agreement with Google.
How we use your information
We collect information about you to understand your needs and provide you with a better service. Specifically, we use your information to:
Provide our Services to you. For exampl

e, to set up and maintain your account, provide plugin updates, or charge you for any of our paid services.

Further develop our Services. For example, by adding new features that we think our users will enjoy or will help them to create and manage their websites more efficiently.

Monitor and analyze trends and better understand how users interact with our Services, which helps us improve our Services and make them easier to use.

Monitor and protect the security of our Services, detect and prevent fraudulent transactions and other illegal activities, fight spam, and protect the rights and property of Zertic and others.

Send you informational and promotional content in accordance with your marketing preferences. You can stop receiving our promotional emails by following the unsubscribe instructions included in every email.

Send you important notifications. For example, we may inform you of temporary or permanent changes to our Services, such as planned outages, new features, version updates, releases, abuse warnings, and changes to our Privacy Policy.

Communicate with you and provide customer support.

Personalize your experience using our Services, provide content recommendations and serve relevant content.
Sharing Information
We do not sell our users' private personal information.
We share information about you in the limited circumstances outlined below and with appropriate safeguards on your privacy:
Subsidiaries, Employees, and Independent Contractors:

We may disclose information about you to our subsidiaries, our employees, and individuals who are our independent contractors that need to know the information in order to help us provide our Services or to process the information on our behalf. We require our subsidiaries, employees, and independent contractors to follow this Privacy Policy for personal information that we share with them.

Third-Party Vendors:

We may share information about you with third-party vendors who need to know information about you in order to provide their services to us. This group includes vendors that help us provide our Services to you (like payment providers that process your credit and debit card information) and those that help us understand and enhance our Services (like analytics providers).

As required by Law:

We may disclose information about you in response to a legal request.

To Protect Rights and Property:

We may disclose information about you when we believe in good faith that disclosure is reasonably necessary to protect the property or rights of Zertic, third parties, or the public at large. For example, if we have a good faith belief that there is an imminent danger of death or serious physical injury, we may disclose information related to the emergency without delay.

Business Transfers:

In connection with any merger, sale of company assets, or acquisition of all or a portion of our business by another company, or in the unlikely event that Zertic goes out of business or enters bankruptcy, user information would likely be one of the assets that is transferred or acquired by a third party. If any of these events were to happen, this Privacy Policy would continue to apply to your information and the party receiving your information may continue to use your information, but only consistent with this Privacy Policy.
Security
We take security measures to limit misuse of and unauthorized access to personal data.
Retention periods
The personal data described above will be kept for as long as necessary to provide you with the requested services. Thereafter, we will keep data for a maximum of one year. The data will then be deleted, unless there is a legal obligation that requires longer retention.
Third-Party Websites
This privacy statement does not apply to third-party websites that are linked to our online service. We cannot guarantee that these third parties will handle your personal data in a reliable or secure manner. We recommend that you read the privacy statement of these websites before using these websites.
Changes to this privacy statement
We reserve the right to modify this privacy statement. It is recommended that you consult this privacy statement regularly so that you are aware of these changes.
View and change your data
For questions about our privacy policy or questions about access to and changes to (or deletion of) your personal data, you can contact us at any time using the details below.
You can also send us a request to view, change or delete this data. You can also submit a request to request a data export for data that we use with your permission, or indicate with reasons that you want us to limit the processing of personal data.
To prevent misuse, we may ask you to identify yourself adequately. If the data is incorrect, you can request us to change the data or have it removed.
Personal Data Authority
Of course, we are happy to help you if you have complaints about the processing of your personal data. Under the privacy legislation, you also have the right to file a complaint with the Dutch Data Protection Authority against these processing of personal data. You can contact the Dutch Data Protection Authority for this.
Check out our cookie policy.
CONTACT DETAILS
Zertic BV
Luchthavenweg 18F
5657 EB Eindhoven
The Netherlands